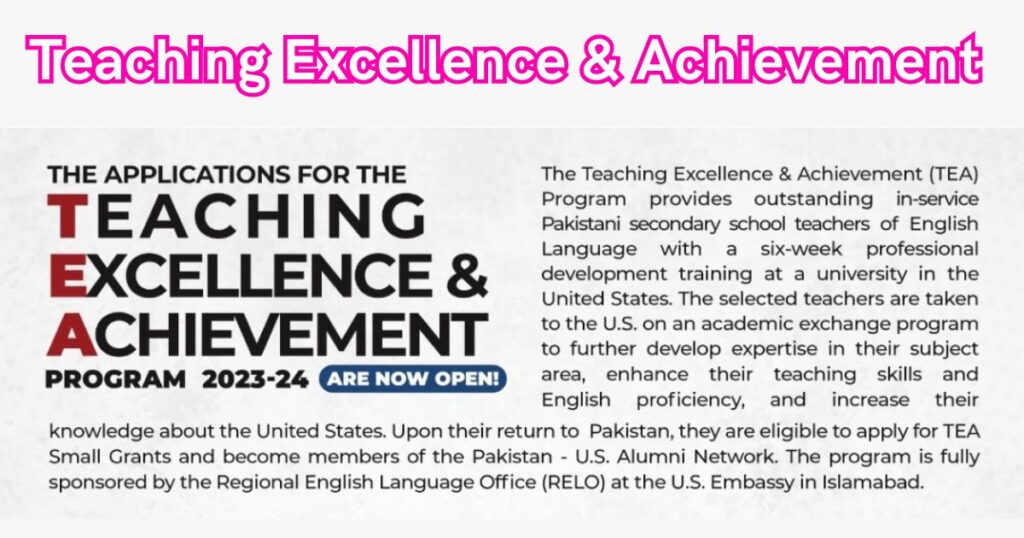 The Teaching Excellence & Achievement (TEA) Program is for Pakistani English language teachers, who are currently working at secondary school in any province or federal area of Pakistan. It provides outstanding in-service of English Language with a one and half month professional development training at a university in the United States. The qualified teachers are taken to the United States on an academic exchange program to gain more deep knowledge of the English language and the U.S country and its culture. After completing the 6 week course, the teachers are eligible to apply for TEA Small Grants and become members of the Pakistan – U.S. Alumni Network for future. The Teaching Excellence & Achievement (TEA) Program is sponsored fully by the RELO "Regional English Language Office" at the U.S. Embassy in Islamabad, Pakistan.
Benefits of TEA Program
Get J-1 visa support
The orientation of pre-departure held in Pakistan.
Full Round-trip airfare to and within the United States
Full tuition fees.
Full program fees.
A program for welcome held at University of Nebraska Omaha.
A Workshop at University of Nebraska Omaha, United States.
Meals and House provided
Medical coverage for sickness and accident
A trip to the city Washington, D.C.
A trip to the city Washington, D.C.
At return to Pakistan, a re-entry seminar
An opportunity to apply for alumni small grants.
Eligibility Criteria for TEA Program
You must be an English teacher at secondary-level in a foundation school or government school
Three years English language teaching (class 6th to xth) experience
Pakistani citizenship
You have at least a Bachelor's degree in English/Education or equivalent
Exhibit strong English language skills
Demonstrate a commitment to continue teaching for at least years in Pakistan after the completion of the program
Required Documents for TEA Program
Application Form
Service Letter
Institutional Reference and Support Form (included in the application form)
Privacy Policy and Application Certification Statement (included in the application form)
Copies of the latest academic transcripts & degrees
Copy of Passport or CNIC
How to Apply for TEA Program
To apply for the Teaching Excellence & Achievement (TEA) Program, just visit the official website of TEA which is www.tea.org.pk. Open your account on that website and read all the instructions carefully and fill the form, attach the required document and submit your application.
Last Date to Apply TEA Program
The TEA Program is announced every year. This time the program was announced in the month of October. But the last date for this program is 5th November, 2023.
If you are a teacher and want get your salary slip every month then click below article and get your monthly salary slip for free.
Do you want to know about STS Portal – STS Slip Download Guide 2024 ?