Table of Contents
Here are two methods are available for PIFRA salary slip registration.
Method 1. If you want to register for PIFRA salary slip, then go on the official website of PIFRA. After visit the PIFRA site, Click on registration form there and put your personnel information such as your CNIC or old NIC, date of birth, and cell number with all 12 digits.
Method 2. Visit the FABS website directly and provide all your personal information and complete the registration process and click on submit button. Once registered yourself on above mentioned sites, you can check your salary slip online via mobile or computer.
If you are still confused about how to PIFRA salary slip registration process, please read and follow below guiding instructions carefully.
The process of PIFRA Salary Slip Registration is very easy and simple. A non-technical individual can do PIFRA Salary Slip Registration online and it's totally free. But before we start online registration for Pifra salary slips, we must know about PIFRA.
What is PIFRA?
The Finance department government of Pakistan has authority to give salary slips to all government employees. If any individual has a need for a monthly salary slip, he/she must visit the District Treasury office for a monthly salary slip. Now the Pakistani government introduced a new project as Pifra. PIFRA means Project to Improve Financial Reporting and Auditing, it is a project of the Pakistan government. Through this project all government employees can get their pay slips or salary slips through this project.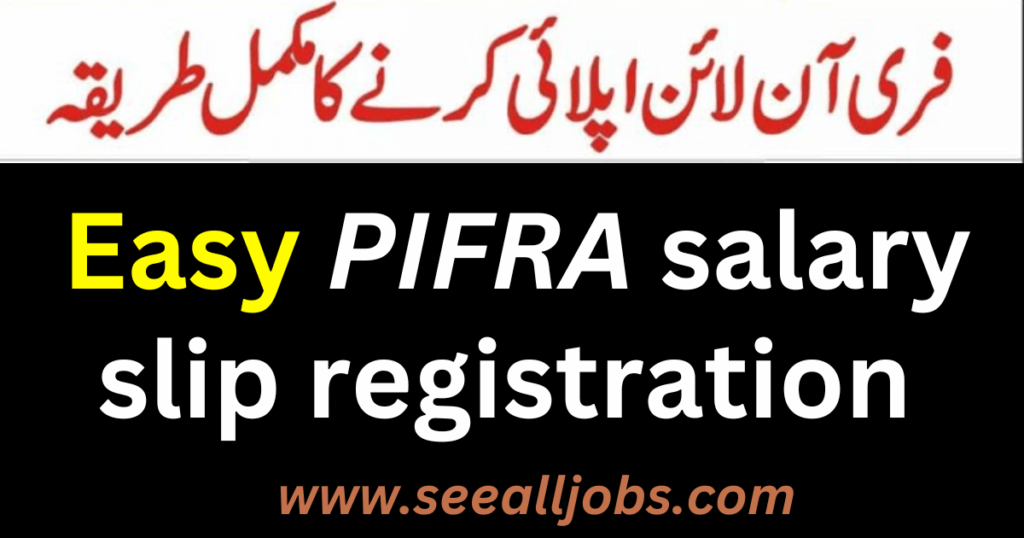 PIFRA registration form online
Pifra registration form online is now available on PIFRA official website. All government employees must follow the rules for Pifra registration form online. Once you have done the Pifra registration form online completely, you will get your monthly salary slip in your email for free.
Visit our latest article about Biometric Change Performa
Before PIFRA Salary Slip Registration you must know following:
Before starting registration for an online salary slip you must have the details below.
Should be a federal or province government employee of Pakistan.
Must have a Personal Identity Number (personal ID)
Old or New CNIC Number
Date of Birth (DOB)
Mobile Number
Gmail or Yahoo Email Address
BPS or Scale
Federal or Province Code
If you don't know your province code. Here is all province and federal code
(F = Federal, S = Sindh, P = Punjab, N = KP Govt, B = Balochistan, DGP = District Govt Punjab, K = Kashmir, GB = Gilgit-Baltistan, GBC = GB Council, C = Kashmir Council)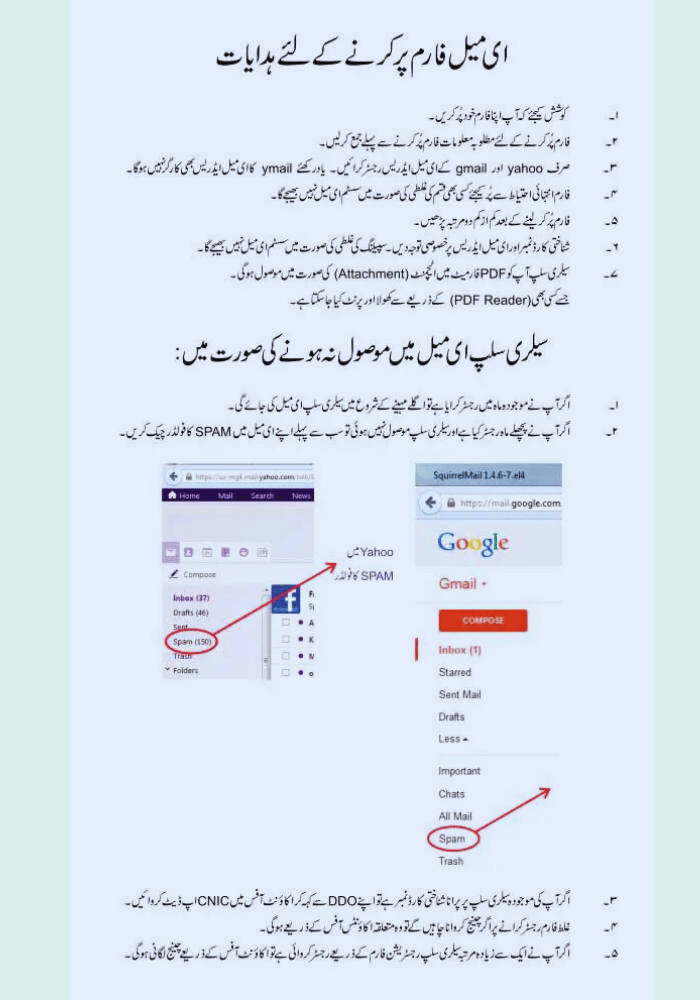 How to do PIFRA Salary Slip Registration
Here is very simple and easy process of pifra salary registration through your email address. Please follow all step correctly. For online registration you have just go to the official website of PIFRA http://www.pifra.gov.pk or Click Here.
PIFRA Salary Slip Registration Step .1
Fill the Government blank. For Example .If you are a Sindh Government employee just put here code (S) only.
PIFRA Salary Slip Registration Step. 2
Put your employee personal number. Every government employee of Pakistan have an unique personal number, so just enter your employee personal number here.
PIFRA Salary Slip Registration Step. 3
Please enter your CNIC all digit without dashes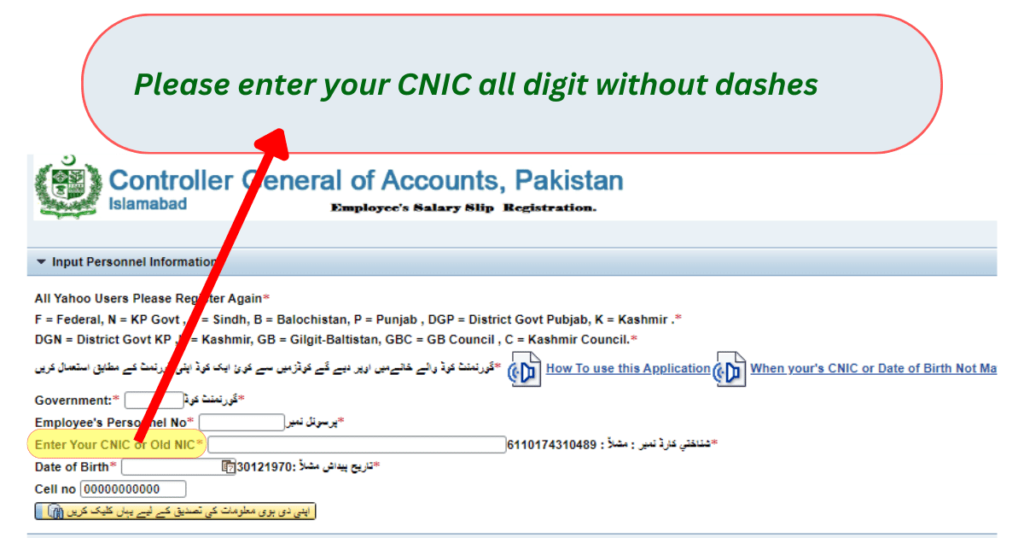 PIFRA Salary Slip Registration Step. 4
Now simply enter your correct date of birth which is also mentioned on CNIC.
PIFRA Salary Slip Registration Step. 5
Now simply enter your correct mobile number.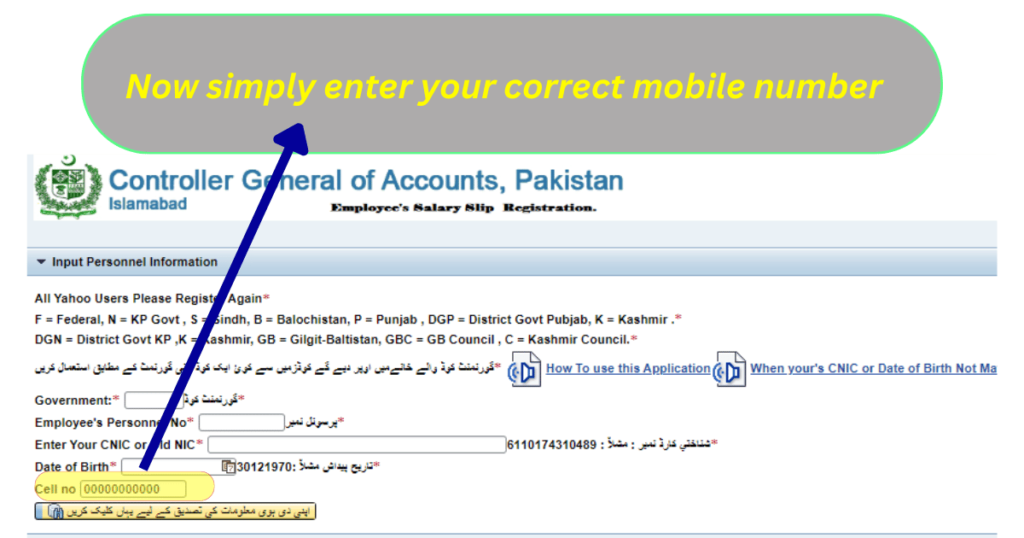 PIFRA Salary Slip Registration Step. 6
Double click on this box and now simply enter your correct gmail or yahoo address here.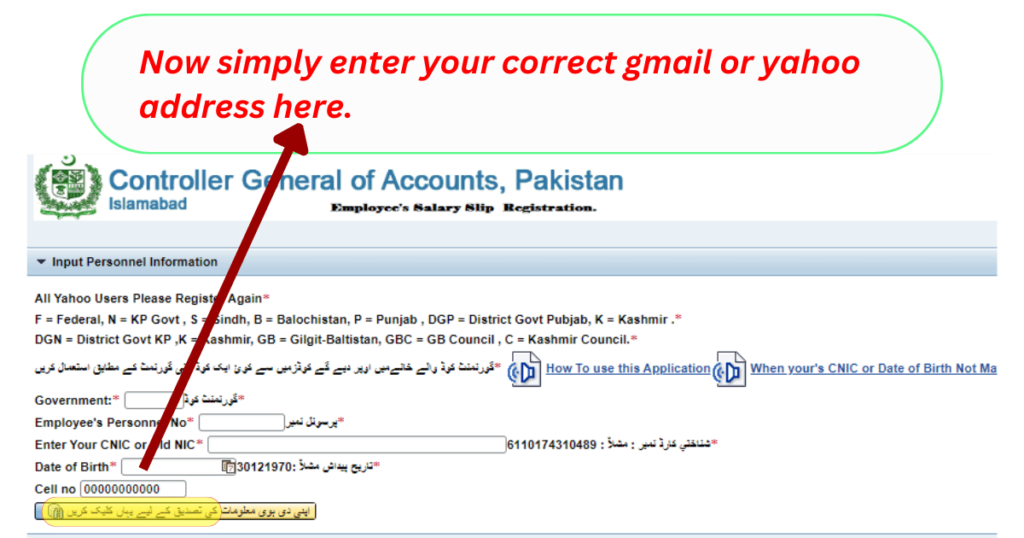 Now the PIFRA Salary Slip Registration is completed. I hope you have enjoyed the process of PIFRA Salary Slip Registration. After this, every month you will get a monthly salary slip vis email address.
How To Check PIFRA Salary Slip Online?
If you have an internet connection you can check the Pifra salary slip online via your pc or cell phone. Generally there are two methods of checking your salary slip in Pakistan online through Pifra.
Check salary slip online through Email
Check salary slip through the official website of FABS.
Method 1: Check salary slip online through Email
It makes no difference whether you use Yahoo or Gmail. The procedure is very similar. However, most people use Gmail to register for PIFRA. So, here's how to verify your Pifra pay slip online using Gmail.
Please keep in mind that this method will only work if you enrolled within the preceding month. If you enrolled after the 10th of the current month, your salary slip for the prior month may not be displayed. This approach will only function if you have received at least one payment in the bank following your PIFRA registration.
If you have a PIFRA account, log in to your Gmail account.
Go to your inbox and look for the PIFRA or FABS mail.
If you don't see any messages for whatever reason, type the PIFRA salary slip into the search area.
All communications with complete salary slip details will be displayed.
Please keep in mind that the salary slip can take up to 10 days to arrive in Gmail. As a result, you may have to wait until the 10th of the month.
Method 2: Check salary slip through the official website of FABS.
When compared to email salary slips, this technique is faster and displays more data. You can also access your past records via the website. Filter out other facts and actions that you could miss in emails. Maintain the process;
Navigate to http://www.fabs.gov.pk/.
Login to your account.
After selecting services, click on Online salary slip.
If any details are required, enter them; otherwise, you will view all of the salary slips or payslips.
You may also download the salary slip as a pdf file from the download option.
How to Unsubscribe PIFRA Emails?
If you're getting irritated emails from PIRFA registration, you can get rid-off this. The method is more simple and easy.
I have researched and got 3 different ways to unsubscribe from receiving emails from PIRFA.
Here are three methods to unsubscribe PIRFA emails.
Every email contains the option to unsubscribe at the bottom of the email. When you click on that, PIFRA's subscription page will open. You need to confirm that you're willing to unsubscribe and click OK.
You can request the technical staff by calling on this number: 0092-51-9107248
Go to fabs.gov.pk and chat with the support team. You will automatically stop receiving emails of PIFRA salary slips when you inform them about your problem.
Read the following FAQs about PIFRA Salary Slip Registration
FAQs about PIFRA Salary Slip
How can I get my Salary Slip or Pay Slip?
Now you can get your salary slip or pay slip through PIFRA . It's totally free of cost and you will get it every month.
How to register email in pifra?
To register email in pifra, please read above full article. You will get all information related Pifra registeration.
Is pifra salary slip registration free?
Yes the pifra salary slip registration is totally free and you can do it through your mobile or computer once and will get salary slip every month.
Tag : PIFRA Salary Slip Registration 2023, PIFRA Salary Slip Registration, pifra online salary pay slip registration for govt employees, pifra pay slip registration download, pifra salary slip registration form, pifra pay slip registration guide