The Balochistan Public Service Commission (BPSC) Quetta, Pakistan, has recently announced a number of vacancies in the Education Department, specifically in the Colleges, Higher & Technical Education Department. The positions available are for Lecturers in a variety of subjects, including English, Urdu, Physics, Chemistry, Biochemistry, Zoology, Botany, Mathematics, Political Sciences, Psychology, Sociology, Geography, Computer Sciences, Environmental Sciences, Media Sciences, Islamiat, Pakistan Studies, Economics, Statistics, History, and Microbiology.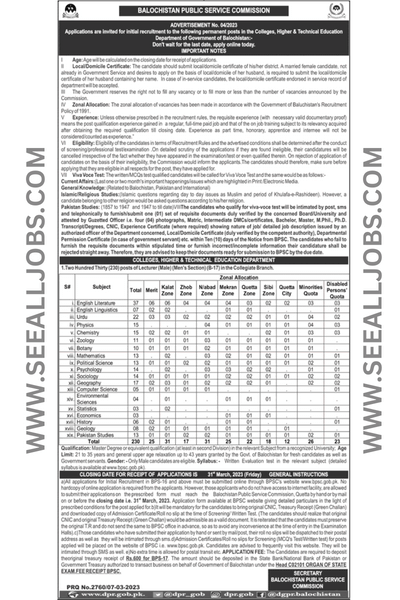 In total, there are 230 positions available for Lecturers with a BPS-17 designation. The requirements for these positions vary and include a Bachelor's degree, Master's degree, M.ed, B.ed, BA, MA, M.sc, MS, or other relevant qualifications. The last date to apply for these positions is 31 March, 2023.
If You want get Notes and daily jobs update Join Our Watsapp Group Below
As a government position, the Lecturer roles come with a host of benefits, including job security, a competitive salary package, and other perks. The vacancies are located in Quetta, Balochistan, Pakistan.
For those looking to apply for a Lecturer position, it is important to note the requirements and qualifications for each position before applying. Additionally, applicants should ensure that they meet the minimum education and experience requirements for the role they are interested in.
The BPSC Balochistan Public Service Commission is committed to creating a diverse and inclusive workplace and encourages individuals from all backgrounds and experiences to apply for these positions. By doing so, the organization can create a team of Lecturers who bring a unique perspective to the field of education.
In conclusion, the BPSC Balochistan Public Service Commission is offering an exciting opportunity for qualified individuals to become Lecturers in the Education Department. With a variety of subjects available and a competitive salary package, it is a chance not to be missed. Interested candidates should review the job requirements and apply before the deadline.
Details of Latest Jobs of Lecturer in College Higher and Technical Education Department Balochistan
Organization Name :
Vacancy Title :
Total Posts :
Jobs Location:
Employment Type :
Apply Last Date :
Colleges, Higher & Technical Education Department
Lecturers (BPS-17)
230 +
Balochistan, Pakistan
Full Time
31-03-2023