Are you searching for a job opportunity in 2023? If yes, then Women University Mardan has announced vacancies for multiple positions in various departments. These positions range from clerks to lab assistants and others. This opportunity is open to all candidates who fulfill the eligibility criteria and are looking for a career in a reputable organization.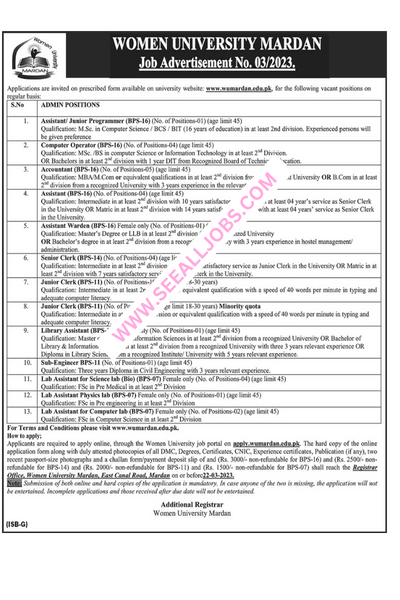 The university is looking to hire individuals for the following positions:
BPS-16:
01 Assistant / Junior Programmer
04 Computer Operators
05 Accountants
04 Assistant
01 Assistant Warden
BPS-14:
04 Senior Clerks
BPS-11:
12 Junior Clerks
01 Library Assistant
01 Sub Engineer
BPS-07:
04 Lab Assistant – Science Lab
01 Lab Assistant – Physics Lab
02 Lab Assistant – Computer Lab
The location for all these positions is Mardan, Khyber Pakhtunkhwa. The last date to submit the application is March 22, 2023. All interested candidates are advised to submit their applications before the deadline.
Women University Mardan is a well-reputed educational institution in Khyber Pakhtunkhwa, known for its high academic standards and contribution to the education sector. The university has a diverse faculty and staff, including highly qualified and experienced individuals.
Working at Women University Mardan is not only an excellent opportunity for individuals looking to grow professionally, but it is also a chance to work in an environment that values diversity and inclusion. The university offers competitive salaries, benefits, and growth opportunities to its employees.
If you are interested in applying for any of the mentioned positions, you can find the application form on the university's official website. Please make sure to review the eligibility criteria and the job requirements before submitting your application.
In conclusion, the job vacancies at Women University Mardan offer an excellent opportunity for candidates who are looking for a career in a reputable organization. With a diverse range of positions available, there is something for everyone. Apply now and take the first step towards a bright future.