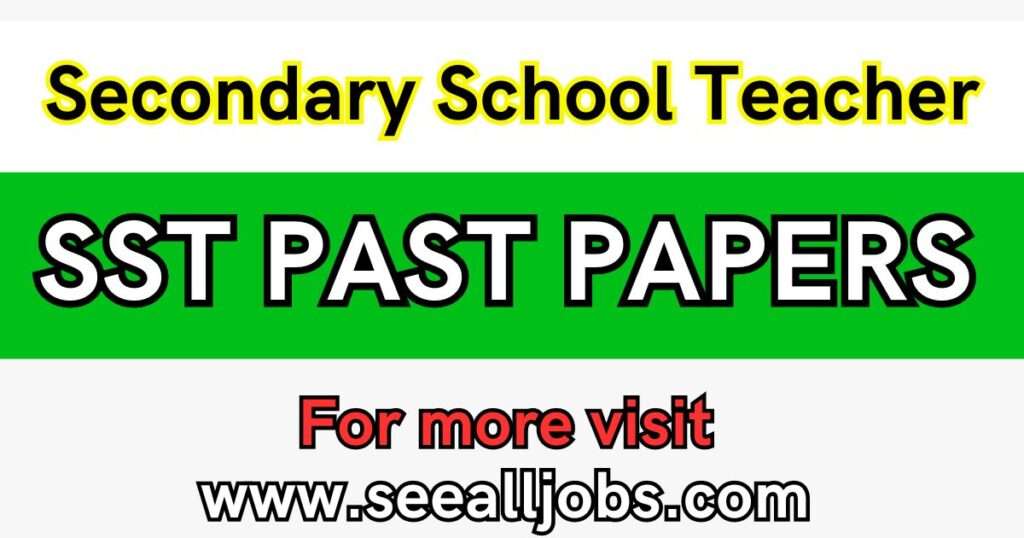 The SST past papers are now available on See All Jobs website www.seealljobs.com. These sst past papers I collected from different recruitment organizations and institutions like, spsc, fpsc, ppsc, nts, pts and IBA Sukkar etc. These papers will help you in the preparation of the SST test. So you must read all sst past papers carefully to understand the pattern of the test. After reading these papers, you will be able to create a mind map for the SST test.
What are SST Past Papers?
The SST is an abbreviation of Secondary School Teacher. So, the SST past papers are secondary school teacher past papers. If you have applied for a job as secondary school teacher then you need to do preparation according the SST syllabus. But the SST past papers will help you to understand the test pattern of SST jobs.
SPSC SST Past Papers
Below in this article, I have provided all the SPSC sst past papers in PDF. The SPSC conducted the test of Secondary School Teachers in the previous two decades. I have collected all papers of these tests and combined them together into one PDF. So you can access all at one place.
SST Past Papers PDF
All the secondary school teacher past papers available in pdf on our site. There are two ways to get sst past papers pdf. First, you can go to a shop in the market near you. Second visit our site and get your sst past papers pdf. The past of sst in pdf is easy to read and has a clear view. 
SST Past Papers with Answers PDF
The positive point of secondary school teacher past papers (which are provided below) is that, these have SST past papers with answers pdf. You can read the paper and get the answer at the end of the paper. Remember whenever you want to buy or get sst past papers, you should buy it with answers. Because papers with answers give you more insight and understanding. 
SST Past Papers PDF Download
Now it is time to get SST Past Papers PDF. It is available in below download. You can easily download it and save it in your device. After saving read when you want. The below given SST Past Papers PDF save your time and efforts. I always believe in providing valuable content to visitor. Please press the above notification button to get every new update notification.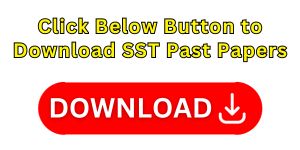 Why secondary school teacher SST past papers are important for test preparation?
Secondary school teacher (SST) past papers are essential for test preparation for several reasons:
Familiarity with Exam Format
Past papers provide insight into the format and structure of the SST exams. Students can become acquainted with the types of questions, marking schemes, and the overall pattern of the test. This familiarity helps reduce anxiety and boosts confidence.
Content Coverage
Past papers cover a wide range of topics and concepts that are likely to be included in the SST exam. Going through these papers helps students identify important themes and areas to focus on during their preparation.
Time Management
Practicing with past papers helps students improve their time management skills. They can learn to allocate the right amount of time to each section of the exam, ensuring they complete the paper within the allotted time.
Assessment of Knowledge
Attempting past papers is an effective way to assess one's knowledge and understanding of the subject matter. It helps students identify their strengths and weaknesses and areas that require more attention.
Application of Knowledge
Past papers allow students to apply what they have learned in a real exam context. This practical experience is invaluable in building problem-solving skills and applying theoretical knowledge.
Identifying Patterns
Over time, students may notice certain patterns in the types of questions asked or the areas that are emphasized in the SST exams. This knowledge can be used to tailor their preparation strategy accordingly.
Confidence Building
Scoring well in past papers can boost a student's confidence. It provides a sense of accomplishment and reassurance that they are on the right track with their preparation.
Self-Evaluation
By reviewing their answers to past papers, students can evaluate their performance objectively. They can identify mistakes, gaps in knowledge, and areas where improvement is needed.
Reducing Exam Stress
The more familiar a student is with the exam format and content, the less stressful the actual exam experience is likely to be. Reduced anxiety can lead to better performance.
Benchmarking
Past papers can serve as benchmarks for progress. Students can track their improvement by comparing their scores in earlier papers with those in more recent ones.
In summary, SST past papers are invaluable resources for students preparing for their secondary school teacher exams. They offer a comprehensive and structured way to prepare, allowing students to build confidence, improve their knowledge, and develop effective exam strategies.
The SST Past Papers, which are mentioned in above, I hope help you a lot for your secondary school teacher test preparation. Save these papers for all kind of secondary school teacher job upcoming test. Material for test preparation no doubts help to success and pass the test but also provide valuable knowledge and boost your mind and thinking power too.
If you enjoy reading SST Past Papers and these papers helped you for regard you test then please comment below and share it with others.