National Skills University The first federal public university to teach Pakistani youngsters 21st-century skills and knowledge is NSU Islamabad. The Capital Territory of Islamabad is where this university is situated.
Its goal is to become a preeminent technical education institution that emphasises young people's economic empowerment and excellence. The organisation strives to provide certificates, diplomas, and degrees in cutting-edge and in-demand skills and re-skilling programmes.
You can learn more about the available jobs at National Skills University Islamabad on this website. Also, you will receive information regarding the hiring process, including Tests, Interviews, and Appointments. On the university's official website, https://nsu.edu.pk/jobs, you may also find updates.
Table of Contents
Vacant Positions at National Skills University Islamabad
Professors, associate professors, assistant professors, and lecturers must all be teaching faculty. There are more than 40 teaching faculty opportunities available in Pakistan for skilled and experienced educators.
In many fields and departments, including information technology, software engineering, electrical engineering, civil engineering, mechanical engineering, medical laboratories, management sciences, biotechnology, computer sciences, Islamic studies, mathematics, English, and Pakistan studies, teaching faculty are required.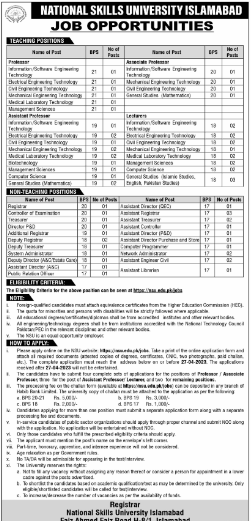 Registrars, Controllers of Examinations, Treasurers, Directors of P&D, Additional Registrars, Deputy Registrars, Deputy Treasurers, System Administrators, Deputy Directors, Assistant Directors, Public Relations Officers, Assistant Registrars, Assistant Controllers, Assistant Treasurers, Assistant Controllers, Computer Programmers, Assistant Engineers and Assistant Librarians are all positions that require non-teaching staff.
Vacant Positions:
Additional Registrar
Assistant Controller
Assistant Director
Computer Programmer
Controller of Examination
Deputy Director
Deputy Registrar
Deputy Treasurer
Director P&D
Lecturers
Network Administrator
Professors
Public Relations Officer
Assistant Engineer
Assistant Librarian
Registrar
System Administrator
Treasurer
Assistant Professors
Assistant Registrar
Assistant Treasurer
Associate Professors
How to Apply for National Skills University Latest Jobs 2023?
Online applications must be submitted at https://nsu.edu.pk/jobs/ as part of the application process. Print out the online application form, and then attach all the required paperwork (verified copies of degrees, certificates, CNIC, two photographs, paid Challan Form, etc.).
The Registrar of National Skills University, Faiz Ahmed Faiz Road, H-8/1, Islamabad, should receive the Complete Application Form. Students need to submit their applications by April 27, 2023.
Foreign-qualified candidates must include equivalent certifications issued by Pakistan's HEC, the country's higher education commission. The NSU is an employer that values diversity. Where relevant, the quota for minorities and people with disabilities will be rigorously adhered to.