Table of Contents
Job Description of Network Technician for NADRA
Key Skills & Requirement:
Knowledge of providing First Level Support to Installation and Operations teams for all assigned network elements 24 hours a day, 7 days per week.
Maintain, diagnose, and fix local area networks (LANs), wireless local area networks (WLAN), computer workstations, Internet connections, and ancillary equipment.
Maintain, troubleshoot, and configure peripheral devices such IP phones, network printers, scanners, etc.
Setup and troubleshooting of computer hardware, networking programmes, Windows/Linux operating systems, and software programmes (MS Office, Adobe, etc.).
Experience with the Windows environment
Certifications or courses in networking will be preferred.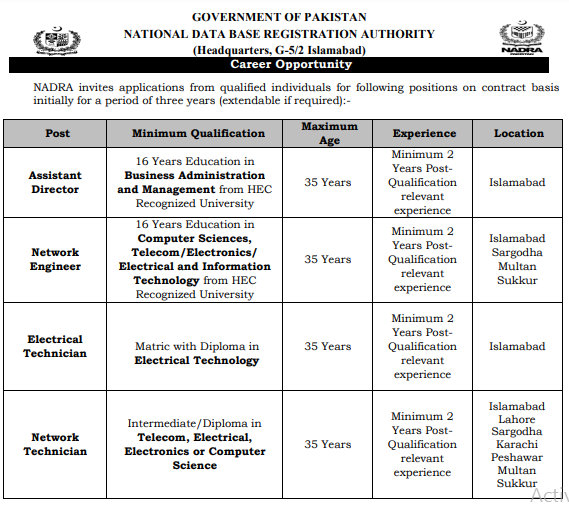 Minimum Qualification Required
Intermediate (Intermediate (H.S.S.C)
Diploma – (Computer Science) (Diploma (Computer Science)
Diploma – (Electronics) (Diploma (Electronics)
Diploma – (Electrical) (Diploma (Electrical)
Diploma – (Telecom) (Diploma (Telecom)
Experience Required of Network Technician for NADRA
Experience in a comparable field of at least two years.
Terms and Conditions
Only those who have been shortlisted will be contacted for interviews.
Management retains the authority to approve or disapprove any application without providing a justification.
This appointment does not grant the right to a regular position.
If a candidate provides fraudulent information, they will be disqualified.
The age restriction already includes a 5-year age relaxation.
No TA or DA will be allowed.
Hard copies of applications or resumes are not accepted. Within 15 days of this advertisement, interested candidates may submit their applications via NADRA's website at https://www.nadra.gov.pk/careers/. Candidates with varied abilities and women are especially encouraged to apply.
Nadra Headquarters Islamabad, Lahore, Sargodha, Karachi, Peshawar, Multan, Sukkur
(Age Limit: 40 Years)
Apply Before
30-Apr-2023