The Financial Institution is inviting applications for job positions as advertised in the daily newspaper The News dated August 13, 2023, for various vacancies in Islamabad, Pakistan. The positions available are as follows:
Analyst
Divisional Head – Investment Banking
Group Head – Investment Banking
Educational qualifications such as MBA, BBA, MS, Master's, and MPhil will be given preference.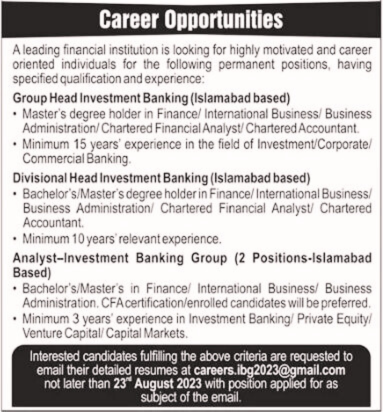 Interested individuals can apply for the latest job openings at the Financial Institution, including private bank jobs, until August 23, 2023, or as per the closing date mentioned in the newspaper advertisement. For detailed application instructions for these opportunities, please refer to the complete advertisement available online.
Financial Institution Bank Jobs Details
Advertisement Date: August 13, 2023
Category/Sector: Private
Newspaper: The News Jobs
Education: Master's | MPhil | BBA | MBA | MS
Vacancy Location: Islamabad, Pakistan
Organization: Financial Institution
Job Industry: Banking Jobs
Job Type: Temporary
Expected Last Date: August 23, 2023, or as per the newspaper ad's information.