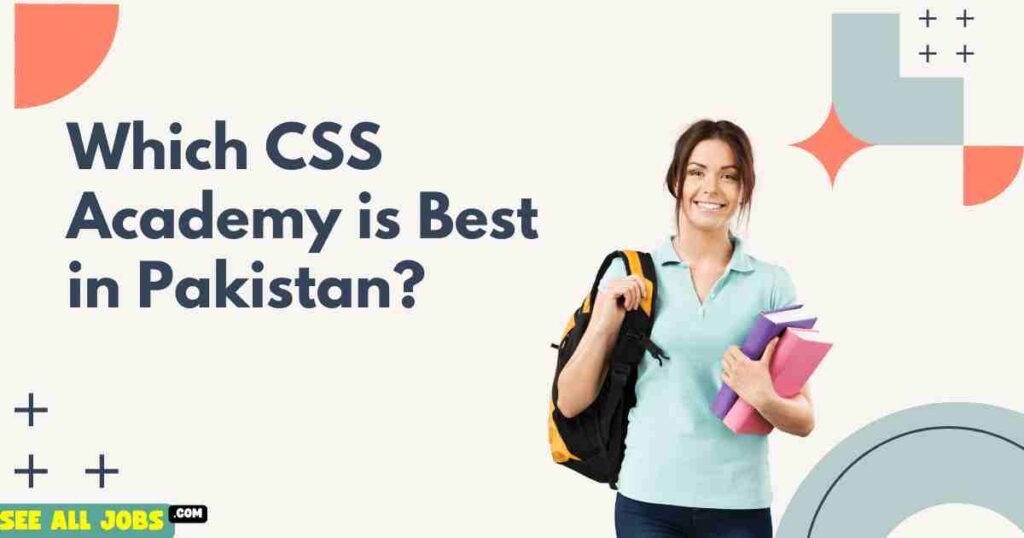 Are you wondering which CSS Academy is the best in Pakistan? Then you are in the right place. Here I will write about the top 5 best CSS Academies in Pakistan, Before that I elaborate about what is CSS? The Central Superior Service, also known as CSS, is the toughest highest exam in Pakistan. The CSS is considered one of the most toughest and highest exam in Pakistan. To pass the CSS exam, you have to have strong basic knowledge of different subjects, like English, Political Science, International Relations, Current Affairs, Pakistan Affairs, Pakistan History, Islamic Studies etc.
Therefore, to pass this exam you will need to join a best CSS preparation academy. That's why, here I recommend these best CSS Academy of Pakistan. All these CSS academies are located in different cities of Pakistan. Choose any one which is located near to you. Read below all 5 best CSS exam preparation academies in Pakistan. Here is the list of the best CSS academies in Pakistan from where you can get help for your CSS and other competitive examinations.
Table of Contents
Top 5 Best CSS Preparation Academy in Pakistan
It is very confusing for CSS candidates to join any CSS exam preparation center. For ease, I did research and came up with these top 5 best CSS preparation academies in Pakistan. Read about every CSS Academy below and choose one which is most suitable for you.
National Officers Academy (NOA) :
My number one recommendation is National Officers Academy (NOA). This is the most famous CSS academy in Pakistan. The National Officers Academy (NOA) is located in Lahore and Islamabad cities of Pakistan. Its main campus is in Islamabad and a branch also opened in Lahore. NOA offers a more powerful and prestigious course for CSS aspirants. This academy conducts mock tests and provides CSS exam materials to its candidates.
Here are two main addresses of the National Officers Academy (NOA).
National Officers Academy (NOA) Main Campus Islamabad
House # 327, Sawan Road, G-10/1, Islamabad
National Officers Academy (NOA) Lahore Campus
61 B, Shaukat Khanam Road, Near Allah Hoo Chowk, Johar Town.
Kips Academy Lahore:
The top second CSS Academy for exam preparation is Kips Academy Lahore. The Kips Academy Lahore is one of the best css academies in Lahore. It is located in Lahore and has produced many successful CSS officers and bureaucrats. Kips Academy Lahore offers a comprehensive course that covers all subjects, from English to Urdu and sociology to civic. Kips Academy Lahore academy provides exam materials and conducts mock tests to guide the students for the exam.
The Kips Academy Lahore is the most popular CSS exam preparation centre in Pakistan. This academy provides online classes facility to the candidates. Its provides all related materials of CCS exam to the candidates. Tutors of Kips Academy Lahore teaches aspirants with proper guidelines to pass the exam.
Masters Institute for CSS – Karachi:
The Masters Institute for CSS in Karachi is a well known institute for css exam preparation. This academy is always filled with large numbers of students from different parts of the country. It has gained a reputation for producing successful css officers and bureaucrats.
The Masters Institute for CSS – Karachi is a thriving institute in the education field. It offers a wide range of courses for CSS aspirants and other competitive exams.
This institute plays an important role by providing quality education to css aspirants of the country. Its very precious CSS academy for candidates who belong to Sindh and live near Karachi or Hyderabad cities of Sindh.
World Time Institute Lahore:
The World Time Institute Lahore is a high demand institute among CSS aspirants. This institute provides quality competitive exams materials. The World Time Institute Lahore with its competitive edge in the education field, achieves a high position among aspiring civil servants and continues to offer quality education to CSS students.
The World Times Institute's mission is to offer comprehensive, top-notch support on all practical issues to CSS and other competitive exam candidates so they can focus entirely on getting into the public sector. With the assistance of the World Times Institute faculty and careful planning, students can accomplish their goals.
Are you interested in latest jobs
See Latest Jobs NADRA Jobs 2023 Apply Now Online
IBA Karachi Jobs 2023 – Apply Now
Latest BOP Bank of Punjab Galaxy Management Trainee Program 2023
The Mentors CSS Academy – Lahore:
Above you read about all four CSS Academies and are still searching for the best one. Here I recommend the final academy for css preparation, I hope you will choose any one from them.
The Mentors CSS Academy of Lahore is the most prestigious institute for CSS preparation. It is located in Lahore city. The highly qualified and most experienced team at The Mentors CSS Academy – Lahore guides every aspirant of CSS in unique and most successful manners.
The team of The Mentors CSS Academy – Lahore consists of CSP officers, senior bureaucrats and university professors. With the monitoring of highly qualified candidates of The Mentors CSS Academy – Lahore passed the CSS exam in huge numbers. So, the reputation of this institute increased day by day. My recommendation is that if you live in Lahore city, then you must join this CSS academy for your exam preparation.
Conclusion:
CSS exam is the most competitive and toughest exam in Pakistan. So every candidate needs the best CSS Academy to do the best preparation for that exam. As I have comprehensively described all about Which CSS Academy is best in Pakistan?
I hope after reading this research based article you will get your required answer and will also enjoy this article. And also I hope that this article helps you in choosing the best CSS academy in Pakistan.
If you get some information from this article about CSS Academy. Please share this article with others who are trying to find an academy for their CSS exam preparation.
FAQs
What is the fee for CSS in Academy?
The fee for CSS is various in different academies. But here the most common fee for CSS is given. The fee structure for CSS is below.
60,000 Fee for Only Optional Subjects for duration of 2.5 Months
25,00 Fee for Only Screening Test for duration of 2.5 Months
20,000 Fee for Only Interview duration 1 Month
Which subject scored highest in CSS exams?
Here is list best scoring subjects in CSS exams
List of Highest Scoring Subjects in the CSS Exams
Sociology
Economics
Computer Science
Accountancy and Auditing
Political Science
Business Administration
US History
Governance and Public Policy
Is 3 months enough for CSS?
There are so many factors to complete preparation for CSS exams. For example; your educational background, basic information regarding compulsory subjects, your study time in a day and living environment etc.
In fact, yes it is possible to prepare for the CSS in just a short duration of 3 months. But you have to study hard and give more time to study.
How many passing marks in CSS?
The passing marks in the CSS exam is 40% in each compulsory subject and 33% in each optional subject. The total time allowed for both compulsory and optional papers is 3 hours for each subject. Each subject paper has Part-I (Objective part) and Part-II (Subjective part). Part-I is attempted on a separate sheet which is collected back after 30 minutes after paper started.
What is the salary of a CSS officer?
The salary range for a CSS officer goes from Rs 90,000 to Rs 300,000 per month.