The National Archives of Pakistan has published latest notification asking applications from eligible Pakistani citizens for various positions such as Assistant, Clerks, Cataloger, Junior Technical Assistants, Accounts, Steno Typists, Lab Assistants, and others. The National Archives of Pakistan is responsible for collecting, preserving, and giving access to historical archives and papers of the country. Primary, Matric, Intermediate, and Graduate level education is necessary for these positions. The job is in Islamabad, Pakistan, and the application date is March 15, 2023. Read the notification below for information on available National Archives of Pakistan vacancies/positions, eligibility criteria, and other prerequisites.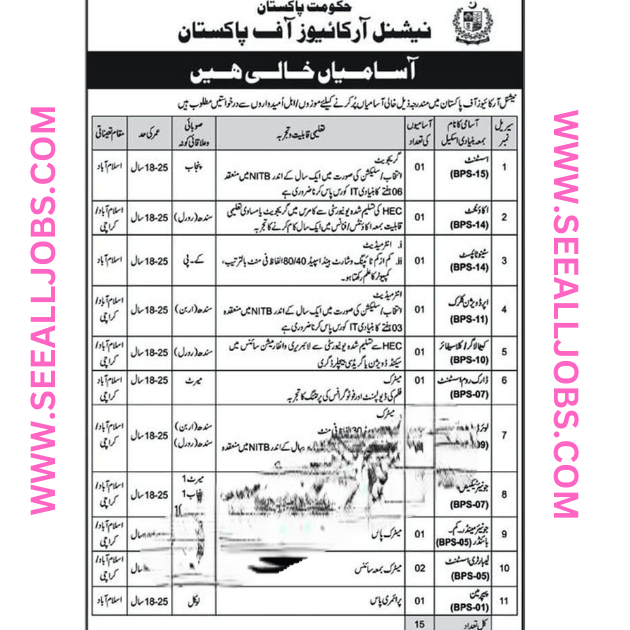 The National Archives of Pakistan, that venerable institution dedicated to the arduous task of collecting, preserving, and providing access to the historical archives and papers of our great nation, has issued a recent proclamation of utmost importance. This proclamation summons forth eligible Pakistani citizens, from the lowliest Assistant to the most exalted of Catalogers, from the humble Clerks to the high-flying Junior Technical Assistants, from the doughtiest of Accounts to the nimble-fingered Steno Typists, from the lowly Lab Assistants to the loftiest of others, to apply for a smorgasbord of positions that are now available.
This extraordinary opportunity, based in the magnificent city of Islamabad, will require all successful applicants to possess a Primary, Matric, Intermediate, or Graduate level education. Such requirements, while not insurmountable, are certainly rigorous and will separate the wheat from the chaff in terms of the candidates who will be considered for these positions.
Thus, we urge all those who have a desire to serve their nation in a profound and meaningful way, to take heed of this proclamation and submit their applications before the deadline of March 15, 2023. To learn more about the available vacancies and positions, the eligibility criteria, and the other prerequisites that must be met, we implore you to read the notification below with the utmost care and attention to detail.
Organization Name :
Vacancy Title :
Total Posts :
Jobs Location:
Employment Type :
Apply Last Date :
National Archives of Pakistan
Clerks, Cataloger, Accounts, Steno Typists
Various
Islamabad / Pakistan
Full Time
15-03-2023